Eric Matusewitch
In 1958, the concertina virtuoso Boris Matusewitch (1918-1978) 1 published a brief article in which he noted that the popularity of the concertina had risen substantially in recent years. In part, this was owing to "the constant activities of performers, like myself and others who have shown the remarkable qualities of this instrument." 2 One colorful individual whom my father likely had in mind was Rolly Rolls, the French-born pianist, conductor, actor, and comedian who performed in Europe, Canada, Australia, and the United States from the 1920s through the mid-1960s, 3 and who, after settling in the United States, used the concertina on stage as part of his act.
About Rolls's life off stage we know little. He was born André Renaud in Paris in 1902. 4 One story about his father is apocryphal: according to a family member, Renaud's father "invented the Eskimo Pie, which he sold to American interests"; he did not. 5 As an adult, Renaud changed his name to Rolly Rolls, having done so for the reason offered by an unnamed columnist in a Minneapolis newspaper:
Speaking of cars, Rolly Rolls sounds like one of those fancy English jobs that only lords and American millionaires used to ride in. Rolly, the French pianist now entertaining at the Radisson, says that was just how he intended the name to sound when he discarded Andre Renaud and took on the new one. Renaud, you see, is the name of France's cheapest motor job.6
Rolls became an American citizen sometime prior to 1950, 7 and in 1951 he married Dorothy Costello (1925-1985), one of the acrobatic-dancing Costello twins. 8 Rolls began his musical career in France as a conductor and arranger, appearing at such important theatrical venues as the renowned Moulin Rouge. 9 In addition, he toured the world with his music hall show, one of the highlights of which was his performing on two pianos simultaneously, a feat that Paul Colin, an important designer of theater and music hall posters during the French Art Deco period, recreated in a famous poster in 1929. 10 While in Europe, Rolls did well both artistically and financially, amassing, by one account, the equivalent of $100,000 before World War II; unfortunately, however, the money dried up in a Parisian bank during the war, and, when he was finally able to withdraw it, was worth a mere $7,000. 11
In 1932, Rolls joined the Earl Carroll Vanities, a showcase of European talent that appeared at the Broadway Theatre in New York City. (Note that this was two years prior to Selwyn and Franklin's Continental Varieties, which also brought European talent to New York and introduced Russian concertina virtuoso Raphael to American audiences.) 12 For the Vanities, a musical revue that ran from September 27th to December 10th, 1932, Rolls wrote music, sang in five languages, and featured his trademark gimmick of playing on two pianos at once. 13
Following the close of the Vanities, Rolls spent decades playing "the circuit," that is, up-scale hotels, theaters, and night clubs, with his act now including performances on a miniature concertina. 14 The instrument made an impression, and in 1944, the Dallas Morning News wrote that "Rolly Rolls the Musical Clown . . . [played] . . . the world's smallest concertina" in a local performance. 15
In 1945, the Detroit Free Press declared—in the course of reviewing a performance by Louis Prima, Rolls, and others at the Downtown stage in Detroit—"[Rolls] extracts Gershwin and other melodies from a pocket- size concertina with a grand flourish and finish." 16 Likewise, the entertainment reviewer for Montreal's Gazette noted that Rolls "opens his show [at the Ritz-Carlton Hotel] with a miniature concertina out of which he conjures surprisingly sweet music," 17 while a Fort Lauderdale newspaper wrote that the "Piece de resistance" of Rolls's performance at the Starlight Room of the Lago Mar is "a miniature concertina . . . on which he makes the most amazing music." 18
In March 1952, the Chicago Tribune observed that Rolls, then performing at the Empire Room of the Palmer House, "does tricks with the concertina," and included a sketch by Ben Cohen of Rolls playing his diminutive instrument alongside singer Mimi Benzell and the dance team of Landre and Verna (see Fig. 1). 19 (Coincidentally, Cohen soon had another opportunity to draw the concertina, when, in 1953, he sketched the concertina-dance team of Boris Gregory Matusewitch and Rod Strong, during their own engagement at the Empire Room.) 20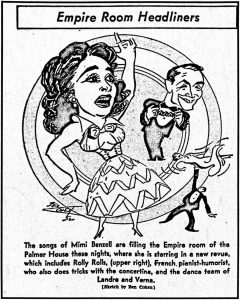 Six years later, a Long Beach, California, newspaper ran this short profile of Rolls, who was photographed holding his miniature concertina:
A four-inch concertina that once held its own with a 170-piece concert orchestra came ashore here Tuesday from the Orient and Pacific liner Oronsay. Clutching the undersized, accordion-type instrument was Rolly Rolls, Parisian humorist-pianist, on his way to a series of musical engagements in this country. The concertina, Rolls explained, was made to his specifications 20 years ago in London for $2,000. It never needs tuning because its 12 reeds—which cost $50 each—are made of platinum. Rolls can play any musical piece with the instrument. Recently he said, he appeared as a soloist with the 170-member Colonne orchestra in Paris, playing Ravel's Bolero on the concertina. Flexing his wrists, he demonstrated the concertina's volume with a single-note blast. Bystanders grabbed their ears and seagulls shuddered. "The audience heard me that night in Paris," he said. 21
This notice includes a photo of Rolls and his concertina (see Fig. 2).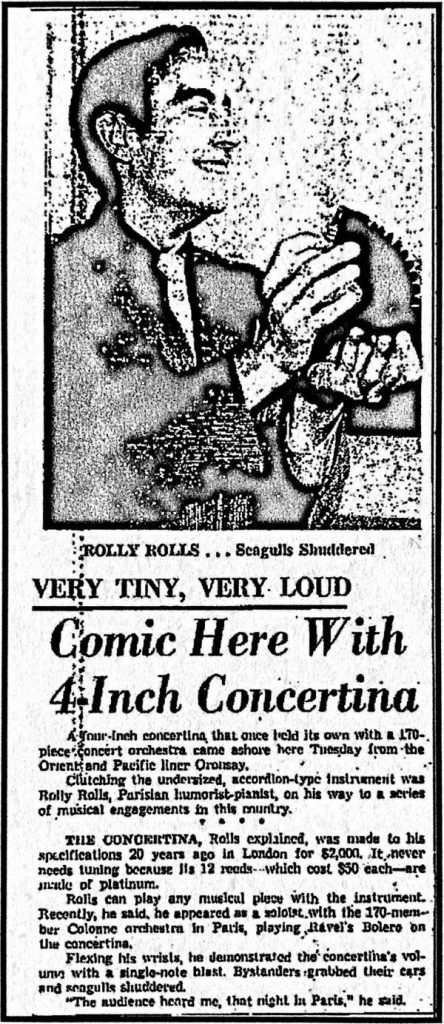 In 1941, Billboard magazine described his piano playing as "Trick stuff that's terrific—playing a fast number by hitting the keys with the ends of a pair of sticks, playing while blindfolded with the keyboard covered by a strip of cloth . . ." 22 And in keeping with his comic performance style, advertisements for Rolls's performances variously dubbed him "The Merry Parisian," "The French answer to Victor Borge," "The French Liberace," and "The Mad Pianist."23 On the other hand, the anonymous reviewer for the Palm Beach Post wrote that the comedy routine interfered with serious music making: "Rollie [sic] Rolls, whose skill on the piano and concertina is such it made one long for him to leave off the comedy and just play." 24
Rolls did, on at least once occasion, give a more standard classical music recital. On November 25, 1956, he made his formal New York debut at Town Hall with a program that included Gershwin, Weber, Liszt, and Chopin. It was, however, "interspersed with pantomime." 25
In his long and diverse musical career, Rolls also appeared on a number of popular American television shows: the Ed Sullivan Show, Arthur Murray Party, and Cavalcade of Stars. 26
In the end, perhaps Rolls's success in the United States can be gleaned from a ceremony that took place in April 1946 at the then-popular New York nightclub La Martinique; with comedian Joey Adams as host, Rolls, "the Merry Parisian," was the "honored guest" at a celebration of his career. 27 Finally, Rolls's musical legacy survives on the Internet, which preserves his jazzy piano arrangement of "Over the Rainbow," famously written for the 1939 movie The Wizard of Oz, with Rolls's performance "rolling" out beneath a superimposed, autographed publicity photo. 28