Allan Atlas (Editor, research articles)
Allan Atlas recently retired from the musicology faculty of the PhD Program in Music at The Graduate Center of The City University of New York, where he founded The Center for the Study of Free-Reed Instruments, for which he edited The Free-Reed Journal (4 volumes, 1999-2002) and then the Papers of the International Concertina Association (10 volumes, 2004-2015).
As a performer, he has been active presenting lecture/recitals and as a member of the New York Victorian Consort. Among his publications about the concertina:
Victorian Music for the English Concertina.  Recent Researches in the Music of the Nineteenth and and Early Twentieth Centuries, 52.  Middleton, WI: A-R Editions, 2009.
"Lord Arthur's 'Infernals':  Balfour and the Concertina," The Musical Times, 149 (Autumn 2009), pp. 35-51.
Ladies in the Wheatstone Ledgers:  The Gendered Concertina in Victorian England, 1835-1870.  Royal Musical Association Research Chronicle, 39 (2006), pp. 1-234 (entire issue).
Contemplating the Concertina:  An Historically-Informed Tutor for the English Concertina  Amherst, MA: The Button Box, 2003.
"Who Bought Concertinas in the Winter of 1851?  A Glimpse at the Sales Accounts of Wheatstone & Co.," in Nineteenth-Century British Music Studies, 1.  Music in 19th-Century Britain.  Ed. Bennett Zon. Aldershot: Ashgate, 1999, pp. 55-87.
The Wheatstone English Concertina in Victorian England.  Oxford: Clarendon Press, 1996.
Dan Worrall (Editor, Current Chronicle)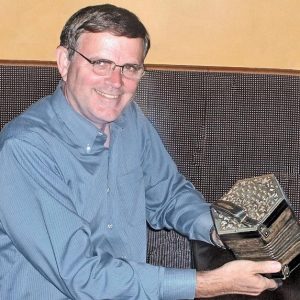 Dan Michael Worrall was born in Poteet, Texas. A retired geologist (Ph.D., University of Texas at Austin, 1979), he served in various research, exploration and management roles during his working career. He purchased his first concertina from an Austin music shop in 1975, knowing nothing of its history or musical uses. Living a very long way from other players in that pre-Internet age, he was inspired by recordings of Chris Droney and William Kimber, and embarked on a lifelong hobby playing Anglo and English system concertinas, always searching for more information on how they are played and by whom. His published works include:
The Anglo Concertina Music of William Kimber
(London: English Folk Song and Dance Society, 2005)
The Anglo-German Concertina: A Social History, volume 1
(Fulshear, Texas: Concertina Press, 2009)
The Anglo-German Concertina: A Social History, volume 2
(Fulshear, Texas: Concertina Press, 2009)
House Dance: Dance Music Played on the Anglo Concertina by Musicians of the House Dance Era
(Gloucestershire, U.K.: Musical Traditions, 2013; CD-Rom).
Tripping to the Well: Six Clare Women & Mrs O'Dwyer's Old German Concertina
(Miltown Malbay, Ireland: Oidraeacht an Chláir, 2015, CD).
Harry Scurfield (Correspondent for Great Britain)

Harry Scurfield has been playing the anglo concertina for over 40 years, accompanying his own singing at folk clubs in Yorkshire and elsewhere, and playing mainly English traditional tunes in dance bands for many years. For well over 20 years – again on anglo – he headed "Bayou Gumbo", an electric 5-piece, influenced by Louisiana's Cajun and zydeco, and by blues, African and Caribbean music. He has led workshops, teaching at major U.K. concertina events, (Concertinas @ Witney, the Kilve Concertina Weekend, and the Swaledale Squeeze). He is always interested in what other players do with (to?) the instrument.
From early on he began to develop what has been described as "a unique style" on the Anglo concertina. "Harry Scurfield is always great to listen to, doing things on a concertina that I doubt its inventor ever envisaged."  (Brian Peters) This stems largely from a long and deep affection for early blues and jazz, with, more recently, Caribbean, French & African influences. Precedents for using the concertina in various forms of music do exist, going back many decades, and with thought and (occasional!) sensitivity, the Anglo can interpret a wide range of material.
Harry has also contributed features, reviews and articles to local, national and international magazines (Tykes News; Froots; Concertina & Squeezebox; PICA). He researched the rich black South African "squashbox" concertina tradition (Michaelsteiner Konferenzberichte, 2002, and PICA), and a recent paper compared the development of that music with that of the astonishing tradition of the English concertina in Bolivia (Aberdeen University, 2015).
Stephaan van Zyl (Correspondent for South Africa)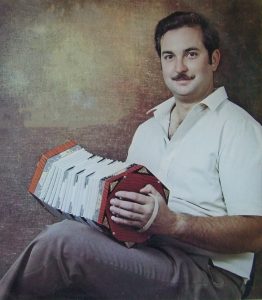 Stephaan D. van Zyl hails from Pretoria, South Africa, a place where concertina playing has been a staple since the 1850s. In his own words,
"To play the concertina was a dream of mine ever since hearing it for the first time. My parents, alas, wouldn't buy me one before I could play the piano. Today I am very grateful for learning the piano first, as it later helped me a lot with my concertina playing.
Piano lessons started at the age of seven, but I wouldn't forget about the concertina, so my dad bought me my first 20 key Anglo for the princely sum of 7 pounds.
In those days concertina players were few and far between, especially 20 key Anglo players, so I had to figure the thing out for myself. Fortunately there were still quite a lot of 78 rpm records, dating from 1933 when HMV sent over technicians to record a number of concertina ensembles, so I could learn the tunes. In 1971 I bought myself a 40 key Wheatstone Anglo for R300, which was a lot of money, R1 being worth about 4 US dollars at the time. During the following decade I advanced enough so that I could begin to record for LPs and radio in 1981. In the meantime I did an apprenticeship with South African Organ Builders, having done my intermediate exams on the organ, and was building, tuning and repairing organs for a living, which I am still doing today.
On March 12, 1983 I was one of the founders of a concertina club that was later named The Traditional Boeremusiek Club of South Africa, and I've been serving on its board of directors since 1987. In 2004 I managed to convince a certain Danie Labuschagne, a known collector of old South African concertina records and an excellent craftsman, to start building 20 key Anglos. At that time, people had to pay high prices for poor quality instruments, resulting in the threatened extinction of the concertina player and his music in South Africa. The demand for this basic type of concertina, I am happy to say, surpassed all expectations. At the time of writing more than 340 such concertinas have been manufactured, not counting all the restorations, and recently other people have started building 20 and 30 key concertinas. Today, concertina music is experiencing a revival in South Africa as more and more people of all ages are buying concertinas and learning to play."
Warren Fahey (Correspondent for Australia)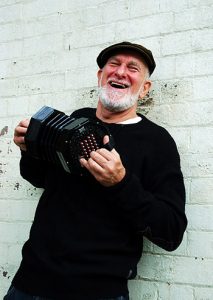 Warren Fahey is a musical jack-of-all-trades – a cultural historian, folklore collector, prolific author, broadcaster, filmmaker, actor, songwriter and singer. He also plays an English concertina. Born in 1946, he has been championing Australian folklore for nigh on fifty years.
In a previous life he established Folkways Music and Larrikin Records, both of which he ran for over twenty years. He is the author of 30 books (his latest is 'All At Sea,' which explores Australia's relationship with the sea) and far too many recordings (he's recorded 32 albums and claims to be Australia's best-known shower singer). Warren has a unique repertoire, much of which comes from his oral history recording expeditions in the late 1960s and early 1970s, when he recorded songs and stories for the National Library of Australia. As an artist, he has performed at countless festivals including the Commonwealth Arts Festival, Edinburgh, Vancouver Folk Festival and for over 40 years at the National Folk Festival in Australia. He is the founder of the pioneering band, The Larrikins, established in 1969 to interpret Australian bush songs. Warren plays a Lachenal Edeophone, circa 1905. He also has a Lachenal rosewood concertina and a Wheatstone baritone. Although he doesn't gamble, he would like to win the lottery and buy a top-of-the-range Wakker Concertina.
He is also well-known as an actor, portraying Banjo Paterson in a two-man play, 'Dead Men Talking' (the concertina features in the play). He is a regular talking head on Australian radio and claims they use him whenever they can't find a real expert. His most notable film work is a twenty-five minute multi-screen work commissioned for the 2010 "Biennale of Sydney" that tells of the history of Cockatoo Island, Sydney. The work uses field recordings as a soundtrack to history. A filmed version of 'Damned Souls and Turning Wheels' can be viewed at https://vimeo.com/27618513. Warren is also the historian for Rookwood Cemetery, the largest Victorian-era cemetery in the world.
Warren has been honoured with numerous gongs including the Order of Australia, the Prime Minister's Medal and, in 2010, Australia's highest accolade for lifetime service to music, The Don Banks Music Award. He prefers to say he is a graduate of the Dingo University of the Outback.
His Australian Folklore Unit website is www.warrenfahey.com.au and is currently being redesigned. His wiki is ridiculous: https://en.wikipedia.org/wiki/Warren_Fahey. Warren can be contacted via wfahey@bigpond.net.au.
Randall C. Merris (Editor, Brief Notes)
Randall Merris is a retired economist whose careers included researcher at the Federal Reserve Bank of Chicago; professor at the Kellogg Graduate School of Management, Northwestern University; economist at the International Monetary Fund; and advisor to governments in Southeast Asia. He has been a prolific contributor to the Papers of the International Concertina Association (PICA) and elsewhere, as indicated below.
Among his publications about the concertina:
"Carlo Minasi: Composer, Arranger, and Teacher," Papers of the International Concertina Association (PICA), 6 (2009), 17-45; available online at www.concertina.org.
"Charles Jeffries: The Man and His Family" (with Stephen Chambers, Robert Gaskins, Davis Lee, and Wes Williams); available online at www.concertina.com.
"Dutch Daly: Comedy and Concertinas on the Variety Stage," PICA, 4 (2007), 1-26; available online at www.concertina.org.
"Frederick W. Bridgman and the Concertina," PICA, 8 (2011), 18-29; available online at www.concertina.org.
"George Case and the English Concertina," PICA, 10 (2013-2015), 35-68 (with Chris Flint); available online at www.concertina.org.
"Instruction Manuals for the English, Anglo, and Duet Concertina: An Annotated Bibliography," The Free-Reed Journal, 4 (2002), 85-118; available with updates online at www.concertina.com.
"Marie Lachenal: Concertinist," PICA, 2 (2005), 1-17 (with Faye Debenham); available online at www.concertina.org.
"Miniature and Semi-Miniature Concertinas," PICA, 9 (2012), 8-39; available online at www.concertina.org.
"Tommy Elliott and the Musical Elliotts," PICA, 5 (2008), 16-49 (with Viona "Elliott" Lane and Chris Algar); available online at www.concertina.org.
Roger Digby (Editor, Reviews)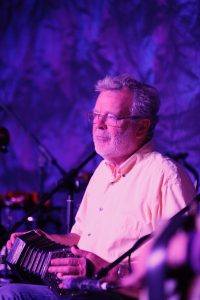 An Anglo player for over 40 years, Roger Digby is known for his performance and knowledge of the traditional dance music of rural England, 'English Country Music'. He founded 'Flowers and Frolics' in the mid-70s, a band at the spearhead of the resurgence of interest in ECM and continues playing in that style today with 'The Valiant Dance Band'. With the young, supremely talented, fiddle player Liz Giddings he has formed a highly respected duo playing a wider range of traditional music. He also gets together with Liz and Michael Sheehy once a month and plays the Sliabh Luchra music that Michael has taught him and he still, very rarely, recreates his long-standing musical partnership with Bob Davenport, now an octogenarian and regarded as one of the greatest living traditional singers in the UK. Roger has always enjoyed taking the Anglo into musics where it is not expected.
He has very forthright views on the nature, the importance, and the integrity of Traditional Music and believes that many aspects of the 'Folk Revival' militate against these. He is an experienced teacher and workshop leader.
His recordings include:
With 'Flowers and Frolics':
Bees On Horseback,  Free Reed Records. FRR016 (1977). CD reissue with 8 extra tracks  FRRR-18 (2008).
Sold Out,  EFDSS Records. BR6 (1983).
Reformed Characters, Hebe Music. HEBECD002 (1999).
With Bob Davenport:
Wait Till The Work Comes Round, Casette (1993). CD Reissue with six extra tracks. HOP003 (2002).
Send Your Best Men Forward, HOP002 (2003).
With Liz Giddings:
The Passing Moment, HOP009CD (2014).
Major Compilations:
Anglo International, Folksound Records. FSCD70 (2005).
Wes Williams (Editor)
Wes came to the concertina in 1970, when he acquired a 46-key Maccann duet, which appealed to him because it was so different from the melodeons to which he had been accustomed. In 1974 he completed a degree in Electrical & Electronic Engineering at Kingston, Surrey, and moved to rural Somerset, where he found many other local concertina enthusiasts.
Over the course of the next twenty-five years, he slowly accumulated information about the history of the concertina, which eventually led to a brief article that appeared online at www.concertina.net and contact with fellow researchers worldwide.
In 2001 Wes became the archivist of the International Concertina Association and put into order the Association's treasure trove of documents relating both to the concertina and the ICA itself. His recent research has concentrated on 78rpm recordings, and there are many vintage concertina recordings available on his website: www.concertinas.org.uk.
Alex Holden (Webmaster)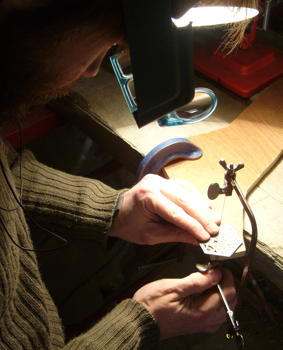 Alex Holden is a former I.T. consultant who realised in 2009 that he wanted to work with his hands for a living, making high-quality beautiful items that are loved and cherished by generations to come. After spending several years helping a friend to restore a 16th-century Welsh farmhouse, and dabbling in various other creative pursuits including making jewellery and hand-carved wooden puppets, he is now working as a traditional concertina maker. You can read more about his instruments over on his blog at Holden Concertinas, or follow him on Instagram at @alexholdenmaker.