Notes from the North American Correspondent
An Interview with Gary Coover, Concertinist and Book Publisher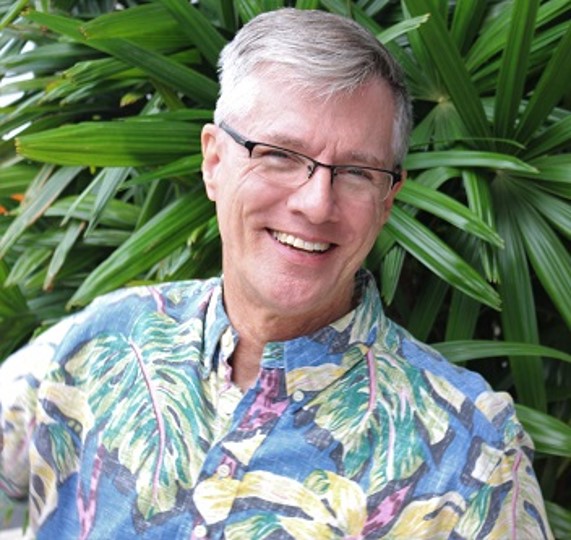 In the concertina world, we often hear that the heyday for our instrument was during the Victorian era. With books about concertinas, that would also seem to be true (for example, see Randall Merris' article on concertina tutors at www.concertina.com, or my own take on that in The Social History of the Anglo-German Concertina, accessible on GoogleBooks). Until now, that is. Gary Coover, a concertina enthusiast living in – of all places – Honolulu, has now written more instruction tutors and song books specifically for the concertina than anyone else, living or dead.
I've known Gary for well over 40 years. When I first encountered him in Houston in the late 1970s, he was with his local Morris side, having a beer after a practice. Gary was and is an enthusiastic practitioner of all things English and folk, and was at that time learning to play an old beat-up Bastari Anglo. Soon after that meeting, we and a few others started up a weekly session in a pub named Rudyard's, on a street conveniently named Kipling. He soon started playing a Wheatstone English for session tunes, and only in the last twenty years or so has picked up the Anglo, now his main system. Irrepressibly upbeat, Gary likes all sorts of 'trad' music, from the most esoteric Irish and English strictly traditional material to electrified folk rock that leaves me far behind. His friendly enthusiasm is catching, and until he moved to Hawaii he was a mainstay amongst the organizers of our annual Palestine concertina workshop. More than any other person I know on the west side of the Atlantic, he has encouraged countless numbers of new players. Never one to try to straight-jacket ways of playing the concertina, he exudes the joy of simply messing about with such a versatile little box of buttons, and of trying to replicate the sorts of sounds that he hears. I interviewed him recently to figure out what is driving this amazing publishing spree….perhaps the Honolulu mai tais? – Dan Worrall
Dan: What brought you to the concertina, where and when? Who were your early influences?
Gary: It all started quite by accident, stumbling across the music of Steeleye Span back in 1973, which led to a lifelong love of British and Irish traditional music, from field recordings to folk rock. About that same time a record store employee suggested the Morris On LP, which of course features the Anglo concertina playing of John Kirkpatrick. That was the first time I heard, and heard of, a concertina. The follow-up, Son of Morris On, featured the wonderful playing of John Watcham and John Rodd on concertina.
In 1977, I found a Bastari 20-button Anglo covered in dust at a local music store, and when asked what they wanted for it they said, "How about $50?" Without decent instruction I couldn't play much on it, just simple one-row stuff, but at least it was a start. During this time I also bought a 50-button Jeffries Duet after hearing Michael Hebbert's amazing LP The Ramping Cat. Couldn't make heads or tails of it initially, but I eventually was able to come up with a presentable rendition of "Icicle Joe the Eskimo".
In the summer of 1979, I attended the American Morris Ale [gathering] in Vermont as well as the Morris Ring meeting in Thaxted, where I saw Morris dancers and Anglo concertina players in person for the first time. On this trip, and subsequent visits to the UK, I was fortunate to meet up with John Roberts, Tom Kruskal, Jim Lucas, John Kirkpatrick, Kenneth Loveless, John Watcham, Michael Hebbert, Neil Wayne, Marie Robson, Steve Dickinson, Stephen Chambers, John Timpany, John & Sue Holman, Colin Dipper, Peter Bellamy, Bill Price, Nellie Powers, Bernard Wrigley, Mick Tems, Tony Rose, and many other luminaries in the concertina world.
Upon returning with a huge collection of new and used folk LP's, I started hosting and producing the "Shepherd's Hey" radio program on KPFT in Houston, a program of traditional music of the British Isles which ran for over 15 years and which often featured live guests like Martin Carthy, John Kirkpatrick, Louis Killen, Tony Rose, Alistair Anderson, The Chieftains, et al.
I'd brought back a nice 1870's Wheatstone English Concertina from the first UK trip and learned quickly with the help of the Frank Butler book. I was asked to join a trad folk band called "Freeborn", which later morphed into "The Four Bricks out of Hadrian's Wall" (which played at Fairport's Cropredy Festival afterparty in Banbury in 1985).
In 2000 I bought a new 30-button Anglo because it was made by my good friend Harold Herrington, but I still couldn't figure out how to make it sound like John Watcham or John Kirkpatrick or Bertram Levy. I just assumed that I needed a fancy Jeffries or Crabb with more than 30-buttons. And I still couldn't find any decent instruction books.
I think it was in 2005 that Dan Worrall had the idea for the Old Palestine Concertina Weekend in East Texas, so I volunteered to teach a beginner workshop to explain the various concertina systems, and in later years taught "Third Row Anglo" and some ensemble classes.
2009 was a turning point, after hearing Jody Kruskal at the Old Palestine Concertina Weekend, I decided it was time to get serious about the Anglo or forget about it altogether. I started by transcribing Andy Turner's version of "Swaggering Boney", and lo and behold it was playable on my 30-button Herrington. Next was John Watcham's "Lumps of Plum Pudding" – it also fit. Suddenly, I was able to play tunes I'd wanted to play for 30 years, an absolute revelation. The floodgates were now opened, and I started transcribing all sorts of Anglo tunes off recordings.
I still play the English, Jeffries Duet, Anglo, (and G/D melodeon), and enjoy the unique differences and capabilities of each. But since there are so many struggling Anglo players out there, the Anglo has been my main focus with the books.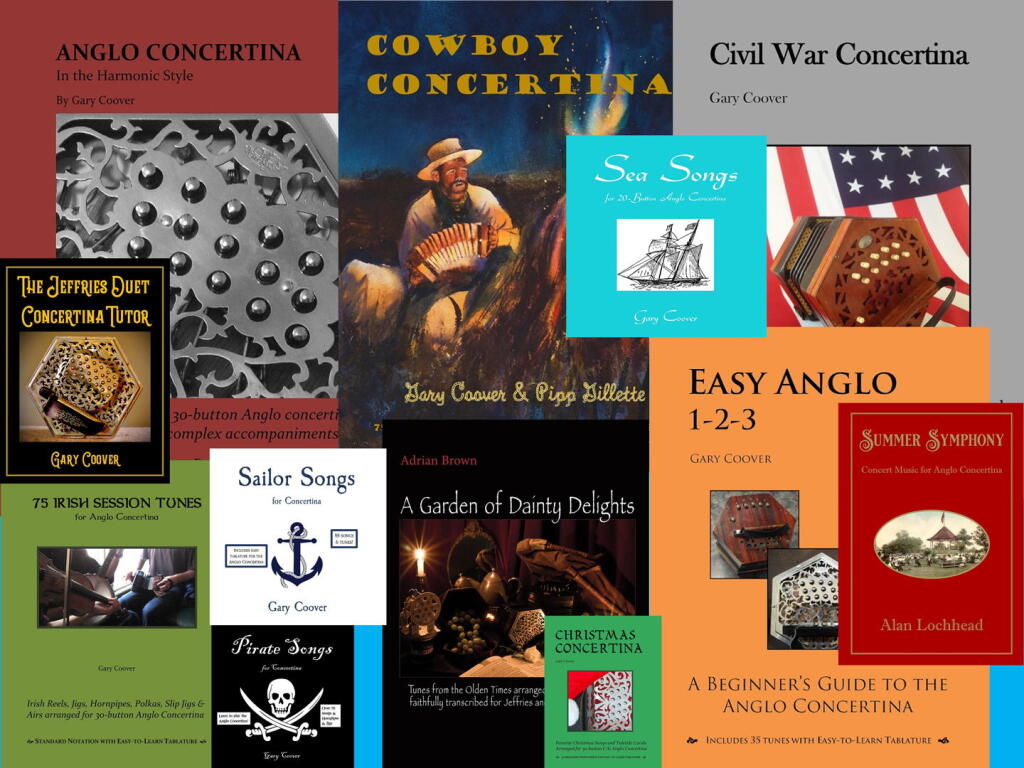 What caused you to write your first tutor for the Anglo?
I had long thought it would be great to get all the various professional Anglo players to join in on a book of transcriptions of their playing, but the thought of trying to round up all those players and tunes was just daunting enough that it never happened. In the meanwhile, I had been transcribing and playing a lot of tunes for my own enjoyment anyway, so it simply became a matter of packaging them into a book in case anyone else might be interested'; it's titled Anglo Concertina in the Harmonic Style.
Has it done well in sales? How many potential players do you think there are "out there?"
I thought if I were lucky the book might sell 300 copies in its lifetime, but much to my surprise, Anglo Concertina in the Harmonic Style has sold nearly 2,000 copies to date, and it continues to sell about 20-30 copies every month in paperback and Kindle.
As to the number of players, I think there are lot more out there than anyone suspects, perhaps in the tens of thousands worldwide. A lot of younger players are becoming interested through online games like Sea of Thieves.
What are some of your best sellers, and when did Rollston Press come into being?
There was never any grand plan at the beginning, only the interest in doing the one book of transcriptions. But the response to that first book showed there was an interest and a market for more books, and since I had really enjoyed writing it, I thought, what next? Well, every musician puts out a Christmas album, so Christmas Concertina was next. As an added feature I recorded YouTube videos of every tune and posted them one a day like a musical Advent calendar leading up to Christmas Day.
Then came the Civil War book, inspired by re-enactors needing tunes for the 20-button Anglo. Authors often say they learn a lot themselves when writing books, and the big surprise for me with this book was discovering how versatile the 20-button can be when it comes to complex arrangements.
In 2015 it finally occurred to me to put out a beginner book, Easy Anglo 1-2-3, since I had learned to play in spite of owning almost all the other beginner tutors out there, many of which are absolutely dreadful. The goal was to make it simple, practical, and to lead beginners progressively through the rows and get into tunes as quickly as possible (since nobody likes long-winded chat or boring exercises). Easy Anglo 1-2-3 has been the best seller by far with over 5,000 sold to date. The lightbulb moment with this book was realizing the large numbers of beginners, many of whom might be inspired to move on to the more advanced books, and indeed this has happened.
Pirate Songs for Concertina is also quite popular, and it was great fun writing it in "piratespeak". Never mind the obvious anachronism – who says pirates have to follow the rules?
I think the books are successful because they present the music in a very simple and straightforward manner from a player's perspective, with a little history and humor tossed in, and are designed for folks to learn tunes very quickly. The tunes are all personal favorites, and I always end up learning a lot of new favorite tunes making each book, so it's a great learning experience for me too.
I picked the name "Rollston Press" in 2013 since that was the street where I lived at the time in Fayetteville, Arkansas. Rollston Press is now based in Honolulu, HI, and has become an established independent publisher with sales increasing every year. As of today, there are 20 titles in the catalog, mostly music instruction, but we've also done a marketing book, historical reprints, memoirs, even poetry. We published Adrian Brown's Anglo book A Garden of Dainty Delights for both Jeffries and Wheatstone/Lachenal button systems, and I'm glad we were able to get fellow concertina player Dave Leggett's Ditty Box into print just before his passing.
Rollston Press was one of the first music publishers to use QR codes to link to videos on YouTube, and this "video instruction" readily shows what the tunes sound like on the concertina. The videos also help drive sales of the books, so it's all very complementary.
Rollston Press recently published my 200-page tutor for the Jeffries Duet – the first ever, and sure to be a dozen-seller, if that, but still worth doing if only to document the capabilities of this rare type of concertina. It was a treat to work with Michael Hebbert and the other Jeffries Duet players who helped make it happen.
How do you approach playing in the harmonic style on the Anglo? Style is of course something that is unique to individual players. How important would you say it is to spend some time as a learner studying some of the "old masters"?
I like an active left hand and bass line, so I'm pretty much a right-hand melody and left-hand accompaniment player. In addition to lots of experimentation, listening to and transcribing tunes from the "masters" has been an absolute joy, and it's especially fun to now be able to play along with some of the folk rock recordings on the Ashley Hutchings albums.
Listening to other players is so important, if nothing else to get a feel for the music that dots on a page simply cannot convey. And if you like what you hear then you need to carefully study what they're doing to learn how they get their particular sound. I also like the challenge of working up non-concertina material to see if it can be made to fit on the Anglo, harp tunes like "Eleanor Plunkett", "Blind Mary", "An Mhaighdean Mhara",  and pop tunes like "Over the Rainbow", "The Theme from Moulin Rouge", and "Love of My Life".
Who would you consider the "old masters" in the harmonic style to be, and where do you find their recordings? By "old master" it is rather broadly meant anyone living or dead who has mastered the instrument and is, in your opinion, worthy of a careful listen.
There are lots of good harmonic style players out there, but in particular I would recommend listening to John Kirkpatrick, John Watcham, Adrian Brown, Andy Turner, Bertram Levy, Jody Kruskal, Brian Peters and Cohen Braithwaite-Kilcoyne (a "young master"). Their recordings can be a little difficult to track down, but many have made the transition to CD and mp3 and YouTube. Or go hear them play live, even better.
What projects do you have in the pipeline?
We just finished a book of 96 sea songs for 20-button Anglo, and coming up next we have
An Anglo book by Jody Kruskal in both C/G and G/D versions
an update of Dan Worrall's William Kimber book for twenty-button Anglo
a remake of Alan Lochhead's All-American Concertina Album, to be retitled Summer Symphony
75 More Irish Session Tunes
a book of John Watcham's tunes
an Anglo concertina book of John Kirkpatrick's music
a collection of 4-part sacred music for all concertinas
a book of tunes from 19th century Anglo tutors
a tutor by Cohen Braithwaite-Kilcoyne, and
an English concertina tutor by Charlie Heymann.
Amazing. Anything else that needs saying?
I think utilizing a super-easy Anglo notation/tablature system has been incredibly important to the success of the books and especially for my own playing. I use the same 30-button numbering system that is found in many of the old 1800's tutors (numbering the buttons "1a-10" for both sides), with right-hand button numbers above the melody notes and left-hand button numbers below. For bellows direction, my one slight improvement on the old notation systems is to draw a continuous overhead line for all notes on the "draw", and then nothing to indicate "push". A dashed line follows any notes that are held for any extra length of time. That's it. The beauty of this system is it is easy to pencil in on printed sheet music, too. No need to make notating the Anglo any harder than it is already!
I'm certainly no professional player, more of a "hack" concertina enthusiast, but what's most important to me is to help others learn quickly and see how much fun it is to play this weird little Anglo-Celtic air compressor. I purposely play a hybrid instrument in the instruction videos because I don't want anyone to be put off by seeing a fancy expensive instrument and thinking they can't play the same tunes themselves on their instrument. With luck, they will see the videos and think "I can do better than that" – and I hope they do!
What I like most about the books is that it gives me a chance to share my favorite music with the world and pay homage to my favorite traditional musical artists. Rather than trusting chance, hopefully this introduction to playing the Anglo will lead to a lifelong passion for and enjoyment of this music.